We develop mobile app based on the hybrid model – combiningthe advantages of both native coding and web technologies.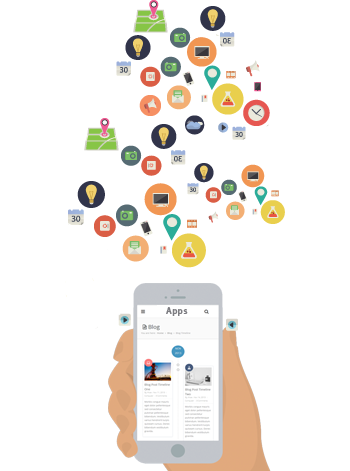 The phenomenal growth of smartphones and tablets in the past few years has revolutionized the way people work, play and connect with each other. With more and more people accessing the internet with their mobile devices, having a dedicated mobile app has become an essential need for many businesses.

KSoft Technologies develops mobile applications that are customized to provide the best mobile experience to the users. We adopt the hybrid development model, which combines the capabilities of native coding with the advantages of web technologies into a single app.

Most enterprise mobile apps are not purely standalone applications, but require content management systems (CMS) or integration with back-end servers. Being an end-to-end IT solution provider, we are able to deliver the entire solution necessary to achieve the business goals.

Specifically, our mobile application solution includes the following platforms: Design : Four Squares together (Delete) New Mobile Apps: If you have a new idea for a mobile app? We create iOS and Android apps that have a track record of creating excellent results for our clients. UI/UX Prototyping: Mobile app's not only need to be functional but it needs to look great and be easy for users to use, we can help with UI and UX design. App Integrations: Do you have multiple pieces of software that dont talk to each other? We can help connect the pieces of software together to improve efficiency. Offline Access? Does your mobile app have to work offline?
We build bespoke app's that have this functionality to help jump the hurdles in your business.
Want to know more? Get in touch by email us at sales@ksoftsys.com